Fred's: Old Name, New Faces
By Lyra O'Brien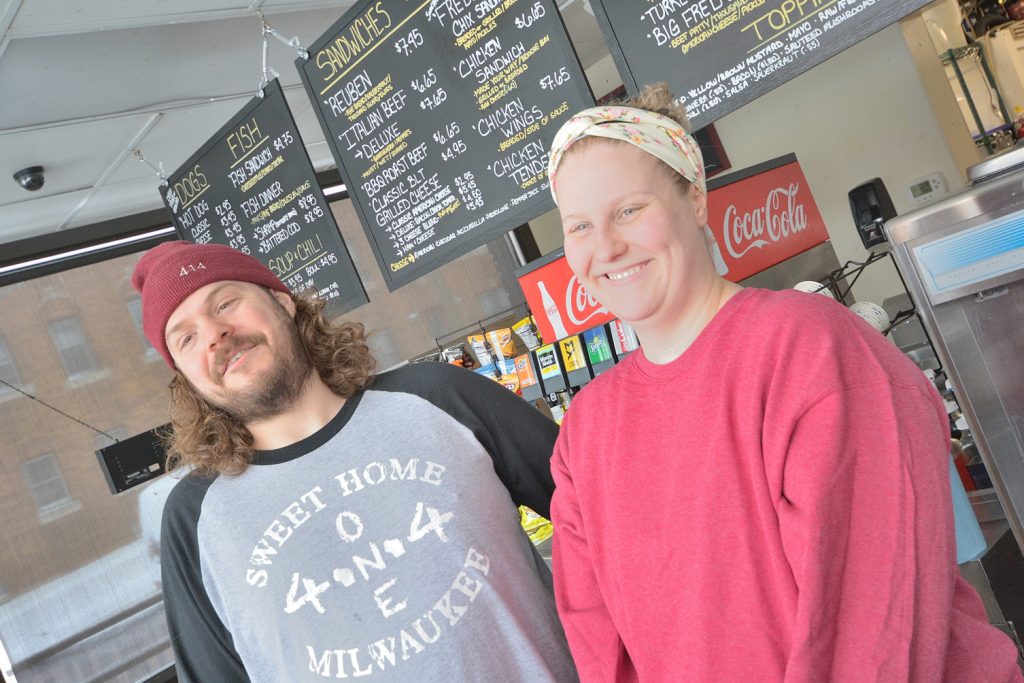 Putting names to unfamiliar faces is something new owners Sam Kassel-Ogden and Alex Ogden are taking very seriously. After purchasing Fred's Frozen Custard & Grill at 4726 W. Vliet Street several months ago, they've met so many new people, and their employees have been there to assist.
"We were fortunate to retain almost all of the employees, so that helped us. Plus they really love this place and it shows. The first day we saw how close the staff and customers are with each other. Customers were coming in, our crew knew their names and orders, without a word being spoken. It's a family environment and it's been so fun getting to know everyone," Sam added.
Fred's first opened in 1967, and it's been a popular neighborhood stop for more than 50 years. The Ogdens first learned about the location after receiving a menu in their 'Welcome Kit' when they moved into the Martin Drive neighborhood a few years ago.
"We came in and fell in love with the place. The staff was great and the food was fantastic, so we kept coming back." Alex said.
When the couple learned the business was 'for sale', they said they immediately jumped at the chance to buy it. "Sam has experience working in restaurant kitchens. I've always loved cooking and knew this was an area I was interested in. I really love making soups and hope to bring home-made soups to Fred's next winter. We told ourselves, when are you going to get another opportunity to own Fred's. We went for it and it's been working well," Alex said.
"We own another business, we own FourOneFour Events, so we have a strong business background. We knew this was the right place for us at the right time. The previous owners, Jim and Carol, helped make this a smooth transaction. They are great and we want to continue the tradition," Sam continued.
While the restaurant's name remains the same, the Ogdens says they've made some popular changes with the menu. "We've upgraded the french fries, onion rings and cheese curds. We've added fried pickles, mini-corn dogs. We've changed over many of our breads, so now we have deluxe sesame seed brioche buns for our burgers. The bread really compliments our delicious five inch burgers and we switched the meat back to being the original meat. People are responding saying 'this is what I love about Fred's'," Sam added.
The Ogdens say future plans also include more Fred's restaurants. "We are looking for more locations and to make Fred's more mobile. To be able to bring people our food with a food truck or a custard cart. To be able to go to Washington Park or other festivals and events, is a long-term goal. We want to get out into the community and show them what Fred's is all about," Sam said.
"While we will always have our burgers, custard, sundaes, and delicious sandwiches, we also want to introduce some vegetarian options. A new meatless patty maybe, and some salads. We want there to be delicious options for everyone, and give folks something new to try," Alex added.
The couple says the past few months have been a blur, and they are grateful to own the neighborhood gem.
"It's been better than I ever imaged, it really has been. I so enjoy and appreciate the staff, they're all great. Plus, then you add in the customers, especially our regulars. It's been fun. While every day is different, this never feels like work," said Sam.
So same name, location, staff, and delicious food! Come in and place an order. If someone doesn't know what you want already, introduce yourself and welcome your neighbors to the neighborhood.